CELAG's Patrimony
Welcome to the Virtual Helicopter Museum !
For the safety of this virtual visit, we thank you for respecting the following instructions ;-)
dont smoke in the hangar and near the machines,
dont turn the blades of the helicopters,
dont exceed the barriers,
supervise the children during all the visit, and in particular when they go up in the helicopters.
Helicopters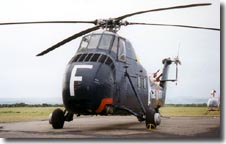 CELAG currently owns 17 full-scale helicopters dating from 1948 to 1976 (first flight date).
These helicopters, even restored in the least details, can't fly : they are rebuilt with spare parts coming from many machines, very often crashed and seriously damaged. It is only thanks to the patience of the restorers that they can recover a beautiful appearance

These machines, even if some become functional again, are intended for static shows only.
Helicopters in working order :

| | |
| --- | --- |
| | a SE-3130 Alouette II which works, but can't fly, due to a lack of funds in the changing of the main structure, out of potential. |
Fully restored :
Under restoration :
| | |
| --- | --- |
| | a wheeled SE-3130 Alouette II in the markings of the French Navy, |
| | a SA-316 Alouette III intended for young people, which will be showed in the markings of the French Rescue ("Sécurité Civile") |
| | a SO-1221 Djinn first pre-production machine of the two-seater version |
Waiting, at various states :
For further informations : a fast preview of our collection in photos and for specialists identification cards of our machines.
Engines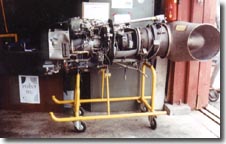 In addition to its helicopters, CELAG has a certain number of engines: some are in exhibition, others are waiting for their frame and for a complete restoration and finally others are lent to aeronautical formation centers or to other associations.
Engines in exhibition :
Engines waiting for restoration :
Engines in loan :
| | |
| --- | --- |
| | the 18 star cylinders Bristol Hercules 739 of Nord 2501 Noratlas |
| | the 6 flat cylinders Lycoming O-470 |
| | the turbojet Rolls Royce Nene |
| | the turbojet Allison J47 |
| | the turbojet Atar 101 |
Hidden treasures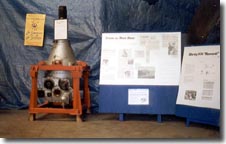 In addition to its helicopters, CELAG has a real treasure in relation to the other domains of aeronautic, such as flight simulators dating from 1949. More over, the CELAG owns a sizeable technical documentation, made up from old hanbooks. These documents, some of which are very old, are essential to do the restoration of the helicopters in good conditions.
CELAG also owns some historical parts such as the remains of the H-34, crashed on the Mont-Blanc during the attempt to rescue the alpinists Vincendon and Henry, on December 31st 1956.


page top



Copyright CELAG 2001-2004 - Drawings and Photographs are properties of their authors and are not free - celag@free.fr