Sud Aviation SA-330 Puma
History and use
<![if !vml]>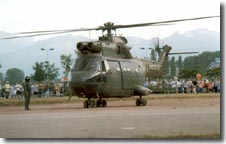 <![endif]>Conceived within theFranco-British framework agreements of 1967 and called Alouette IV initially, the SA-330 Puma had to succeed to French Sikorsky H-19 and H-34 as well as the Bristol Belvédère of the Royal Air Force. It entered in service in ALAT during the year 1969 and in theArmée de l'Air in 1974. The Puma is motorized by 2 Turbomeca Turmo IIIC4 turbines of 990kW, its cabin capacity is about 20 soldiers. The production of about 700 machines was distributed between Aérospatiale firm and Westland firm. Rumanian company IAR get a manufacturing licence for 145 Puma "IAR-330".
CELAG's
specimen
This aircraft has been destroyed on 2007, july the 9th, due to our difficulties to pay our hangars.
CELAG's SA-330J Puma was owned by the Héli-Union Company before being damaged and severely burned. Only the cockpit and the forward part of the aircraft were saved. This helicopter have the s/n 1487 (F-GBDI).

It probably arrived to the CELAG in 1987.

Its state make it very difficult to restore, so this is not planned at present. It could, perhaps, be used for a flight simulator, but the CELAG can't afford it now.
Standard
specifications
General specifications

Manufacturers :

Sud Aviation (F) Westland (GB)

First Flight :

15 avril 1965

Type :

medium transport helicopter

Engine :

2 turbines Turbomeca Turmo IIIC4 of 1328 cv

Capacity :

2 pilots + 20 passengers

Production :

700 + 145 under licence

Country users :

more than 30

Dimensions

Fuselage lenght :

14,06 m

Lenght overall :

18,15 m

Height :

4,36 m

Main rotor diameter :

15,00 m

Empty weight :

3535 kg

Max. weight :

7000 kg

Performances

Maximum speed :

273 km/h

Service ceiling :

6000 m

Range :

580 km
Versions
and
lineag

e
<![if !vml]>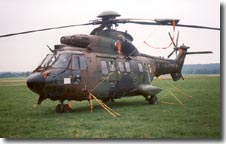 <![endif]>It is in 1974 that appeared for the first time the necessity to improve the SA-330 Puma. So, Super Puma AS-332 was equipped with a lengthened cabin and with 2 Makila 1A-1 turbines of 1358 kW. It accomplished its first flight on September 13, 1978. In 1976 an experimental version AS-331Z was modified with a starflex rotor and a fenestron tail rotor, but these technical options were not validated. Its increased capacity of carrying and its cabin being able to receive 27 seats, the Super Puma is largely used by oil companies for personnel transport. The specifically military versions received name AS-532 Cougar. In South Africa, the machine elements of the Super Puma were used to realize a combat helicopter called "Rooivak".
The successor of this machines family is European helicopter NH90.