CELAG's Aircrafts
3rd Period : 1962 to 1972
The contemporary
The aircrafts presented here are currently still the spearhead of the ALAT (French Army Aviation). The SA-330 Puma is the civil medium-heavy helicopter more used in eupope.
SA-330 Puma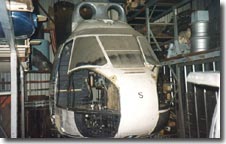 CELAG's SA-330J Puma was owned by the Héli-Union Company before being damaged and severely burned. Only the cockpit and the forward part of the aircraft were saved. This helicopter have the s/n 1407 (F-GBLS). It probably arrived to the CELAG in 1987.
Its state make it very difficult to restore, so this is not planned at present. It could, perhaps, be used for a flight simulator, but the CELAG can't afford it now.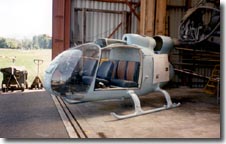 CELAG's SA-341 Gazelle a full-scale model, built from a cell taken from the assembly line of what will become the fearsome SA-341 and SA-342 Gazelle. Used by Sud-Aviation to test the internal settings up of the machine, it has no tail boom, this one not having its definitive shape yet.

Being single, and the CELAG not having yet all the missing elements (tail boom, turbine, main rotor...), it is exposed like it is. A light restoration should however be applied to it, in particular on inside installation (fitted carpet, dashboard).
SA-360C Dauphin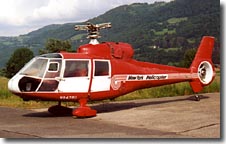 CELAG's SA-360C Dauphin would be s/n 1023. It has the markings of the American company New York Helicopter (NYH) and is registered N8479U. It arrived to CELAG on February 17 2001 coming from the Conservatoire du Patrimoine Aéronautique Istréen (CPAI), member of the Fédération Française des Ailes Anciennes (French federation of old planes restoration and preservation).
This helicopter seems to be reconstituted starting from disparate parts recovered from Aérospatiale co. by the CPAI : cell NYH rotorcraft n°2 and tail beam of NYH rotorcraft n°5 to which would have been grafted Starflex rotor and a Astazou XX turbine, instead of Astazou XVIII turbine and a rotor semi-articulated rotor probably for tests : rotor is browsed by a multitude of small electric wire, indicating the former presence of sensors.
page top

Copyright CELAG 2000-2004 - Drawings and Photographs are properties of their authors and are not free - celag@free.fr