Sud Aviation SA-341/342 Gazelle
History and use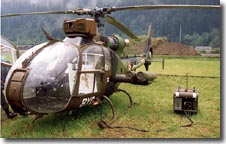 The Gazelle was designed in France by Sud Aviation, always to try to replace Alouette II, and was jointly manufactured by Westland in England.
The SA-340 first prototype of the was equipped with the landing gear, the transmissions and tail rotor of Alouette II for its first flight on April 7, 1967.
The prototype of the SA-341 first take-off on April 17, 1968 equipped with now well known fenestron instead of traditional tail rotor. The fenestron is a ducted tail rotor with 13 blades what makes it less noisy and dangerous. The main rotor of the Gazelle a semi-articulated rotor and its three blades are in laminate.
The Gazelle was designed, at the origin, for linking observation and training missions. However, it was very quickly armed in order to answer to the needs of modern war. So, the Gazelle can receive 4 or 6 anti-tank wire-guided HOT missiles (SA-342M) or Mistral missiles, a 20mm gun (SA-341L) or rockets.
The Gazelle and its various versions are mainly used in France, in United Kingdom and in Arab Countries where they generally constitute basic element of anti-tank fighting. France used successfully the Gazelle during the Gulf's war.
The Gazelle also exists in civil version.
Gazelle production is ceased : in Aerospatiale during the end of 1980's, in Westland during the beginning of 1980's; in SOKO (Yugoslavia) during the beginning of 1990's and in Helwan (Egypt) during mid 1990's.
CELAG's specimen
CELAG has the internal setting up prototype of the Gazelle given by the Direction Générale de l'Armement :
| | |
| --- | --- |
| | CELAG's SA-341 Gazelle a full-scale model, built from a cell taken from the assembly line of what will become the fearsome SA-341 and SA-342 Gazelle. Used by Sud-Aviation to test the internal settings up of the machine, it has no tail boom, this one not having its definitive shape yet. |
Standard specifications
General specifications

Manufacturers :
Sud Aviation then Aérospatiale (F), Westland (GB)
First Flight :
17 april 1968
Type :
multi-purpose light helicopter
Engine :
1 Turbomeca Astazou III turbine of 590 CV
Capacity :
1 pilot + 5 passengers
Production :
about 1200
Country users :
more than 36

Dimensions

Fuselage lenght :
9,53 m
Lenght overall :
11,97 m
Height :
3,15 m
Main rotor diameter :
10,50m
Empty weight :
917 kg
Max. weight :
1800 kg

Performances

Maximum speed :
264 km/h
Service ceiling :
5000 m
Range :
670 km
Versions and lineage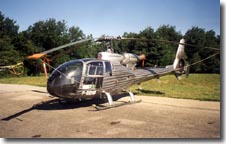 Two Gazelle main models can be distinguished :
The SA-341 is equipped by a Astazou III turbine. It was declined in many mainly military versions : version B to E for British, F for France, H for export and G for civil world.
The SA-342 is equipped with a Astazou XIV turbine able to deliver its maximum power uninterrupted whatever the temperature and altitude. It was declined in version K, J, K, L and L1.



page top



Copyright CELAG 2000-2004 - Drawings and Photographs are properties of their authors and are not free - celag@free.fr