Sud Aviation SA-360 Dauphin
History and use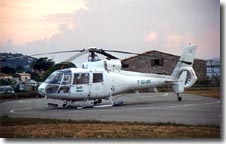 SA-360 Dauphin, designed by Sud-Aviation in 1972 to replace Alouette III, accomplished its first flight on June 2, 1972. The first prototype was equipped with a Turbomeca Astazou XVI turbine and Alouette III blades. The standard machines were equipped with Astazou XVIII A turbines 1050 cv, a reorganized cabin, and blades in composites materials. The Dauphin takes too the characteristic Fenestron which was already equipping the Gazelle. However, this helicopter quickly appears under-motorized. Sud-Aviation have greatest difficulty to sell it ; thus, in addition to the 2 prototypes, only
34 standard specimens were manufactured, the firm being folded back on the twin-turbine engine version of this aircraft, SA-365.

SA-360C Dauphin, capacity 10 places, however beat in its time several speed records.
This helicopter was especially used for the transport of passengers, in particular in version VIP, due to its great carrying capacity (8 passengers) and its broad fuselage. Some SA-360C were used in France too, where they were employed on regular air lines in the south of France. In year 2000, only 9 specimens of this machine were always used around the world.


CELAG's specimen
CELAG's SA-360C Dauphin would be s/n 1023. It has the markings of the American company New York Helicopter (NYH) and is registered N8479U. It arrived to CELAG on February 17 2001 coming from the Conservatoire du Patrimoine Aéronautique Istréen (CPAI), member of the Fédération Française des Ailes Anciennes (French federation of old planes restoration and preservation).
This helicopter seems to be reconstituted starting from disparate parts recovered from Aérospatiale co. by the CPAI : cell NYH rotorcraft n°2 and tail beam of NYH rotorcraft n°5 to which would have been grafted Starflex rotor and a Astazou XX turbine, instead of Astazou XVIII turbine and a rotor semi-articulated rotor probably for tests : rotor is browsed by a multitude of small electric wire, indicating the former presence of sensors.
Standard specifications
General specifications

Manufacturer :
Sud Aviation(F)
First Flight :
2 juin 1972
Type :
multi-purpose helicopter
Engine :
1 Turbomeca Astazou XVIII turbine of 1050 CV
Capacity :
1 pilot + 9 passengers
Production :
36
Country users :
France, Japan, United States

Dimensions

Fuselage lenght :
11 m
Lenght overall :
13,20 m
Height :
3,54 m
Main rotor diameter :
11,50 m
Empty weight :
1637 kg
Max. weight :
3000 kg

Performances

Maximum speed :
247 km/h
Service ceiling :
2450 m
Range :
400 km
Versions and lineage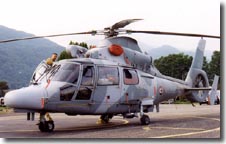 A military version of Dauphin I was considered by Sud-Aviation ; it was the SA-361H, equipped with a Astazou XX turbine and a Starflex rotor. But this version did not have a continuation, and only 3 prototypes were built, starting from 3 SA-360C.

Versions
- SA-360A : Navy version. only one built.
- SA-360C : civil version.
- SA-361 : military version

If SA-360 and its military version were a commercial failure, it was not the case for its successor, SA365N Dauphin II.

This twin-engine helicopter, equipped with a Starflex rotor, was declined in about fifteen versions, the last is Eurocopter EC-155 whose increased fuselage can carry 15 passengers. SA-365 DVG "Dauphin Grande Vitesse" (High Speed Dolphin) conceived especially for high speed tests has since November 24, 1989, the world record on 3 km, for all categories, with 371 km/h.


page top



Copyright CELAG 2001-2004 - Drawings and Photographs are properties of their authors and are not free - celag@free.fr