The Vincendon and Henry Tragedy
History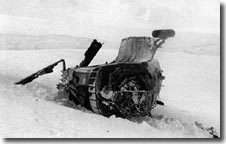 At all the last days of 1956, two young mountaineers Jean Vincendon and François Henry who wanted to spend Christmas in the Vallot refuge mislay on the Mont Blanc (France), because of the bad weather. A Sikorsky H-34 helicopter of the Armée de l'Air (French Air Force) is sent to their help with two guides on board.
But, the machine crashed near the mountaineers, the pilots having been blinded by the powdery snow raised by the helicopter. They are thus 6 people who are blocked at altitude 4360m. Finally on January 3, 1957, two Alouette II succeed in evacuating the 4 survivors; the mountaineers bodies will be taken down only in spring.

France followed the evolution of the tragedy from day to day and was shattered by it.

Photo X - for copyright notes for this image please contact us

H-34 parts
At the end of the Seventies, the glacier of Bossons give back some remains of the broken helicopter H-34 s/n SA-277. 28 Octobre 1978, a CELAG team assisted by a SA-330 Puma helicopter of the Armée de l'Air (French Air Force) undertakes their recovery. Thus the CELAG has the few parts having resisted the glacier and the originals press articles relating the various adventures of this mountain tragedy.
| | |
| --- | --- |
| | |
| The rotor parts at the foot of the glacier | The preserved main gear box |
page top



Copyright CELAG 2000-2004 - Drawings and Photographs are properties of their authors and are not free - celag@free.fr