Déchaux Hélicop-Jet
History
In parallel to the productions of the big builders, a multitude of passionate persons dashed into the construction of flying machines, with more or less success. It was case notably of the engineer Charles DECHAUX, who began the construction of a reaction helicopter , as the crow flies of the Djinn. The originality of Déchaux Hélicop-Jet is the construction of the cabin, plainly constituted with two pavilions of car Panhard PL-24c, a serving floor, and other one for the roof!

Appeared for the first time as mock up to the Salon of Bourget on 1969 (see photo below), Déchaux Hélicop-Jet was built afterward in two copies. Prototype n ° 1, registered F-WZAI, made its first flight in December, 1976, in Issy-les-Moulineaux. Equipped with a turbine Palouste IV, which was used by the Djinn some years earlier, this first prototype appear quickly sub-motorized, being able to take off only with its pilot.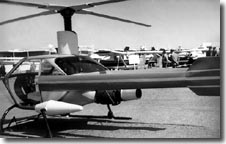 mock up in Salon du Bourget 1969
Collection CELAG

Prototype n ° 2, registered F-WZJO, made its first flight on December 12, 1984, in Issy-les-Moulineaux, equipped with a modified turbine Turbomeca Astazou IIIA of 600 ch. It was then transferred to Ferté-Alais for the continuation of test, supervised by the engineer Jean Richard and piloted by Philippe FOUQUAUX. It would seem that this configuration did not give convincing results, the helicopter remaining widely sub-motorized.

In 1985, date of stop of the tests of the prototype n ° 2, the Hélicop-Jet Project Management company born in Montreal. The company object was construction in series of a by-product of Hélicop-Jet. This helicopter never born nevertheless, but the company always exist.


Protoype 02 registed F-WZJO flying !
Collection D. ROOSENS
CELAG's specimen
The CELAG exposes prototype n ° 2 of Déchaux Hélicop-Jet.
This prototype arrived at the CELAG on July 25, 2001, after a long period of immobilization at Ferté-Alais ( 91 ), where it had been stored by 1985 in the end of tests.

It is in excellent state, and almost complete. Its state of conservation place it first and foremost the other current restorations or in wait, it will receive quickly a severe cleaning and a new painting, the whole in the respect for the current configuration.
Protoype specifications
General specifications

Manufacturer :
Etablissements Déchaux (F)
First Flight :
Dec 1976 (Proto 01) 12 dec 1984 (Proto 02)
Type :
light helicopter
Engine :
1 Turbomeca Astazou IIIA turbine of 600 CV
Capacity :
1 pilot + 3 passengers (in theory)
Production :
1 mock up + 2 or 3 prototypes
Country users :
Never serial built

Dimensions

Fuselage lenght :
5,30 m
Lenght overall :
10,08 m
Height :
2,72 m
Main rotor diameter :
10,08 m
Empty weight :
450 kg
Max. weight :
1060 kg

Performances

Maximum speed :
200 km/h
Service ceiling :
-
Range :
450 km
page top



Copyright CELAG 2002-2004 - Drawings and Photographs are properties of their authors and are not free - celag@free.fr