Piasecki H-21
History and use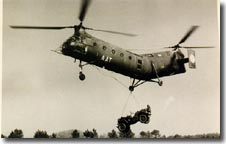 H-21 is a heavy helicopter developed by Piasecki Aircraft Corporation, created in 1946 in the USA. Officially called "WorkHorse", it is more known in France by its nickname "Banane volante" (flying Banana).
This helicopter, derived from the smaller and lighter HRP-2, made its first flight on April 11, 1952. It beat in its time several altitude and speed records.
H-21 was a great military success, because it was an rotorcraft with a great capacity and an undeniable reliability. The principal users of this machine were US Army, US Navy, Germany, France (Army and Navy), Japan and Sweden.
The "Flying Banana" was very much used, by US Army in Viêt-nam for troops transport to combat, but also by US Navy for SAR missions (Search And Rescue). It was armed with light machine-guns, drawing by the side doors.
The French Army and the French Navy used 108 H-21 in an intensive way in Algeria. It made it possible to realize, in combination with H-34, assault operations.
CELAG's specimen
CELAG owns one of the eleven types of H-21 known in France. This aircraft s/n FR41 coded ARB was used in Algeria, from April 1957 to October 1962, at the GH2 (Sétif). After the war, brought back to Metropolitan France, it was affected successively with the ESALAT, the GALAT 15 and finally with the 3rd GALAT. It was retired on March 25, 1970 with 2713 hours of flight.

It arrived at CELAG in 1981, after having being used as a target for a long time. Its status makes it difficult to restore with the own funds of the association. Its restoration however began in 1995 by filling structural holes. Many parts are lacking, like the doors, the blades, and the cockpit equipment. So we decided to convert it into a video projection room, in a reversible way, to add to our potential a pedagogic and mediatic mean.
Standard specifications
General specifications

Manufacturer :
Piasecki then Boeing Vertol
First Flight :
11 avril 1952
Type :
tactical transport helicopter
Engine :
1 Wright R-1820-103 Cyclone of 1425 cv
Capacity :
2 pilots + 20 passengers
Production :
about 1000
Country users :
USA, France, Germany, Japan, Sweden...

Dimensions

Fuselage lenght :
16,00 m
Lenght overall :
26,20 m
Height :
4,70 m
Rotors diameter :
13,50 m
Empty weight :
3632 kg
Max. weight :
6810 kg

Performances

Maximum speed :
211 km/h
Service ceiling :
2880 m
Range :
480 km
Versions and lineage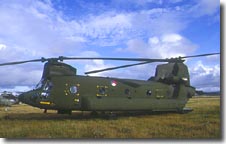 H-21 existed in 3 versions called A, B and C. Version A is recognizable with the round shape of its main door and with its 7 portholes. The versions B and C, which are different only by the presence or the absence from an autopilot, comprise 9 port-holes.
In Mars 1956, Piasecki Aircraft Corp. becomes Vertol Aircraft Company and continuous conception and production of tandem dual rotor helicopters without however being inspired directly by H-21. In 1960, the company is repurchased by Boeing and becomes its helicopters division, specialized in wide helicopters. Thus H-21 can be considered as the ancestor of the famous CH-47 Chinook.
page top



Copyright CELAG 2000-2004 - Drawings and Photographs are properties of their authors and are not free - celag@free.fr