Sikorsky H-19
History and use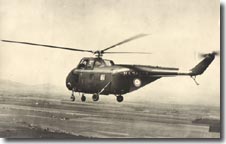 In May 1949, the US Air Force requires of Igor Sikorsky, the pioneer of the American helicopterists, a helicopter able to transport 10 men plus the crew. 7 months later only, November 10, 1949, the prototype accomplished its first flight; Sikorsky S-55 (H-19) was born.
The conception of the H-19 was very innovating because of its engine located in the nose making the machine not very sensitive to the loading variations, of its metallic blades, its easy maintenance without specialized tools and of the presence of a shock absorber on each one of its 4 landing gear legs.
H-19 was a helicopter directed mainly towards the transport of troops or freight. But there were also combat SAR (Search and Rescue) versions. Thus, the sanitary versions could evacuate up to 6 wounded on stretchers.
It is primarily for this use that it was chosen by the French Army during French Indo-China war, and it is in Diên-Biên-Phu that its squat silhouette was worth its French nickname "éléphant joyeux" (Happy elephant). It also began the Algeria war, but was quickly abandoned for the benefit of H-21 and H-34.
It was retired from service in France in 1971 on arrival of the SA-330 Puma.
S-55 was also employed by the civil world : Belgian airline SABENA, in particular, used it for regular links.
CELAG's specimen
The H-19 s/n 55957 is one of the 4 remaining machine of this kind preserved in France. Build in the USA, it was receipted in France on 29 March 1956. Used by the Armée de l'Air (French air Force) from 22 May 1956, it was damaged on 29 June 1959. From 29 July 1959, it was used by the ALAT until its retirement on 08 March 1971.

It ended its career on display, first at the 60th Infantry Battalion of Lons-le-Saulnier, then at the 3rd Combat Helicopter Battalion of Verdun..
Standard specifications
General specifications

Manufacturers :
Sikorsky (USA) Westland (GB)
First Flight :
November 1949-10th
Type :
multi-purpose medium helicopter
Engine :
1 Pratt & Whitney R-1340-57 of 616 cv
Capacity :
2 pilots + 10 passengers
Production :
1280 H-19 + 547 Westland Whirlwind
Country users :
more than 30

Dimensions

Fuselage lenght :
12,85 m
Lenght overall :
19,07 m
Height :
4,06 m
Main rotor diameter :
16,15 m
Empty weight :
2245 kg
Max. weight :
3266 kg

Performances

Maximum speed :
162 km/h
Service ceiling :
3218 m
Range :
650 km
Versions and lineage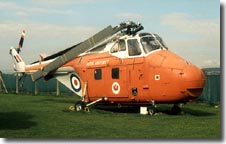 There exists too much of versions of S-55, particularly military, so that one can all enumerate them here. That goes from prototype YH-19 to the HO4S-2 of the coasts-guards while passing by the HRS-2 and HRS-3 of the Marines and the UH-19C of US Army.
Versions with right tail boom and the more recent versions with "broken" tail boom can be distinguished.
Moreover, it is necessary to mention the British "Whirlwind" version build by Westland company. Whirlwind was equipped at its beginnings by the original Pratt & Whitney engine, then by an English engine Alvis Leonides of 882 CV.
In 1959, a turbine Rolls Royce Gnome developing 1050 CV replaces the piston engine. This evolution is easily recognizable to a new better plunging and better pointed nose offering a better visibility from the cockpit.
page top



Copyright CELAG 2000-2004 - Drawings and Photographs are properties of their authors and are not free - celag@free.fr