Mil Mi-1 Hare
History and use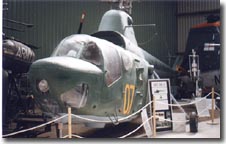 Resulting from project GM1 from 1947, the Mi-1 flight first time in October 1948. After the loss of the first 2 prototypes, its mass production began in 1950 to finish in 1961. In parallel the WSK-Swidnik firm produced it under licence in Poland for 1955 to 1965 in 2 principal versions. The SM-1, model directly derived from Mi-1, and the SM-2 with an increased fuselage which can accommodate 5 passengers. Declined in ten versions, it was used as well for passengers transport or freight transport, while passing by agricultural tasks and medical evacuations. The Mil Mi-1 wasbaptized HARE for the needs for code NATO.





CELAG's specimen
| | |
| --- | --- |
| | The Mil Mi-1 arrived to Grenoble in December 1998. This machine is property of the Musée de l'Air et de l'Espace du Bourget (French Air and Space Museum) that confided it to the CELAG for restoration and exhibition, thanks to the action of the Fédération Française des Ailes Anciennes (French federation of old planes restoration and preservation). The aquisition and transport in France of this aircraft were possible thanks to Mr. PONT of Savigny-les-Beaunes. Its serial number is 403009 and it comes from Czechoslovakia. It is almost complete, in good general condition, and the principal difficulties will be to find instruments and technical documentation. It will be restored in Soviet marking and colors. |
Standard specifications
General specifications

Manufacturers :
Mil (URSS) WSK (Pologne)
First Flight :
octobre 1948
Type :
multi-purpose light helicopter
Engine :
1 Ivencheko AI 26 V of 575 cv
Capacity :
1 pilot + 3 passengers
Production :
about 2500 to 3000 units
Country users :
old Eastern bloc


Dimensions

Fuselage lenght :
12,10 m
Lenght overall :
Height :
3,30 m
Main rotor diameter :
14,35 m
Empty weight :
1880 kg
Max. weight :
2400 kg

Performances

Maximum speed :
170 km/h
Service ceiling :
3000 m
Range :
580 km
Versions and lineage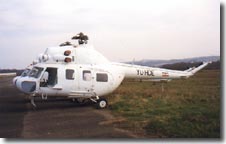 It is in 1961 that Mil MI-2 Hoplite appeared officially. The 9 star cylinders engine has been replaced by 2 turbines GTD-350P of 450 cv, placed on the top of the cabin. Open space left by the old motorization made it possible to increase the internal capacity to 1 pilot + 8 passengers. Mil MI-2 was always in production at the beginning of the Nineties. The Mil Mi2 is also licensed product by the Polish firm WSK-Swidnal since 1964.





page top



Copyright CELAG 2000-2004 - Drawings and Photographs are properties of their authors and are not free - celag@free.fr