SNCASO SO-1221 Djinn
History and use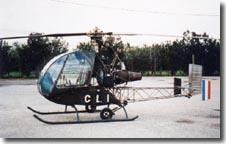 Developed by the Société Nationale de Construction Aéronautique du Sud-Ouest, the Djinn flight first time in the shape of a single-seat helicopter, January 2, 1953. Thereafter, a two-seat version was developed and built in series. This rotorcraft uses an operating mode very different from traditional helicopters : the main rotor is not pulled by a mechanical force of a turbine, but by the reaction produced by the ejection of compressed air in blade tip. This process, which does not induce couple effect due to the force exerted on the rotor, makes it possible not to use a tail rotor. The Djinn was the only machine with reaction in the world to be serial built.In addition, it beat the altitude world record for its category of less than 500 kg : 4789 m. This record was still not beaten.
The Djinn was used by French Army and German Bundeswehr as observation and linking helicopter, but also for medical evacuation missions. It was then equipped with 2 external plates being able to accomodate each one a injured. Very much used in civil world, it was mainly used as agricultural helicopter, equipped with spray tubes. It was also use as a leisures helicopter in aero clubs. There still exists in France a half-dozen of Djinn in in-flight status.
CELAG's specimen
These historical elements, arrived in July 1997, are property of CELAG's members.
| | |
| --- | --- |
| | CELAG exposes the SO-1221PS s/n FC1, first of the 11 pre-production aircraft delivered to the ALAT. This one shows a very specific anatomy with regards to the standards ones (cockpit, dashboard). This aircraft, which will be restored with standard parts, belonged to the Experimental Group of the ALAT from January 1956. |
| | Some elements (main rotor, tanks) coming from Djinn SO-1220-01 registered F-WCZX, first prototype of the single-seat Djinn, whose only two specimens were built. |
Standard specifications
General specifications

Manufacturer :
SNCASO (F)
First Flight :
14 december 1953
Type :
multi-purpose light helicopter
Engine :
1 turbin Turboméca Palouste IV of 225 CV
Capacity :
1 pilot + 1 passenger
Production :
150
Country users :
France, FRG, Argentina, Switzerland, Belgium, Italy, Nederlands.

Dimensions

Fuselage lenght :
5,30 m
Lenght overall :
?? m
Height :
2,60 m
Main rotor diameter :
11,00 m
Empty weight :
379 kg
Max. weight :
800 kg

Performances

Maximum speed :
110 km/h
Service ceiling :
4300 m
Range :
160 km
Versions and lineage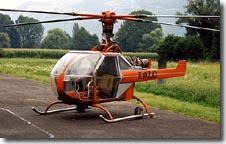 The formula of reactive blades having shown its limits, it did not have derived version. Only a company tried to use again the formula during the Seventies by building a machine of which the cokpit was made from 2 car roof of Panhard PL24c: the Helicop-Jet. But it was a failure and today this concept is no more used.






page top


Copyright CELAG 2000-2004 - Drawings and Photographs are properties of their authors and are not free - celag@free.fr