Sikorsky H-34
History and use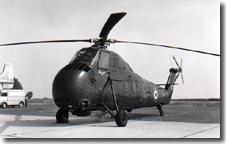 In 1952, US Navy wished a helicopter for anti-submarine fight more modern than S-55 (H-19). The Sikorsky firm then conceived the S-58 (H-34), which accomplished its first flight on 8 Mars 1954.

This machine took again the formula which had made the success of its elder with many improvements on the fuselage shape and on the transmissions.
The first standard aircraft was ready in September of the same year and entered in service immediatly for US Navy in HSS-1 version. US Army and US Navy crpos respectively ordered it in 1955 and 1957.
In France, to face the needs for Algeria war, Sud Aviation assembled 135 H-34 and built 166 other under licence.
Conceived like submarine killer, H-34 was mainly used as a military transport helicopter. It was largely employed by the Americans in Viêt-nam, under the name "Choctaw", for troops transport.
It was also used by France in Algeria war initially like troops transport. It constituted a privileged target at this time. However, the tenacity of Colonel Brunet made of it a ground and attack support helicopter, called "Pirate", equipped with a heavy armament. So it became less vulnerable and much more dreaded.
S-58 was used a little in civil version.
CELAG's specimen
The H-34 of the CELAG have the serial number SA-177. It was built under licence by Sud Aviation and delivered to the Armée de l'Air on August, 1st 1962. Posted to the 23th helicopter squadron of Saint-Dizier (France), it was transferred to the EH 3/67 at Villacoublay (France) during the end of 1964. After a long time of maintenance from September,16th 1965 to February, 28th 1966, it was posted to the EH 2/67 of Saint-Dizier, with the 67-VR registration, until its retirement at the beginning of 1971.

Exhibited in the school yard of the Air Force Orphan school of Grenoble from 1975, it was seriously damaged. Acquired by the CELAG at the beginning of 1978, and restored before being lent for an exhibition on 1981, it was immobilised, due to the theft of its special transportation landing gear, and was damaged. It came back to the CELAG on 1985. On 1994, it was restored as the HSS-1 of the Marine Nationale (French Navy).
Standard specifications
General specifications

Manufacturers :
Sikorsky (USA), Westland (GB), Sud Aviation (F)
First Flight :
8 mars 1954
Type :
medium-heavy transpos=rt helicopter
Engine :
1 Wright R-1820-84 Cyclone of 1545 cv
Capacity :
2 pilots + 16 passengers
Production :
more than 2000
Country users :
USA, France, OTAN

Dimensions

Fuselage lenght :
14,25 m
Lenght overall :
20,00 m
Height :
4,86 m
Main rotor diameter :
17,00 m
Empty weight :
3815 kg
Max. weight :
6040 kg

Performances

Maximum speed :
198 km/h
Service ceiling :
2896 m
Range :
290 km
Versions and lineage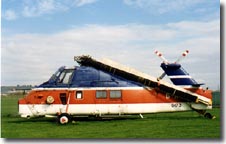 Just like S-55, S-58 had very many versions and evolutions. As an example, version HSS-1N or SH-34J which comprised the first device of hands-off hover could be mentionned. The helicopter was maintained thus all alone at an altitude of 15 m, by correcting the effect of the gusts.
S-58 was also manufactured under licence by the British firm Westland, with the name Wessex, since 1957. The British, following the example of Whirlwind which they want to replace, redrew the nose of the H-34 and adapted to it a Napier Gazelle turbine of 1450 CV and then of 1600 CV. Declined in multiple versions, as well civil as military, Wessex was equipped, next, by 2 Rolls Royce Gnome turbines developing each one 1350 CV.




page top



Copyright CELAG 2000-2004 - Drawings and Photographs are properties of their authors and are not free - celag@free.fr